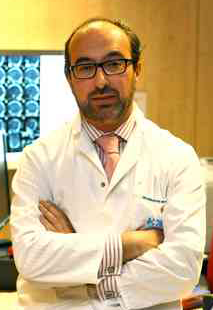 Dr. Manuel Hidalgo, a leading physician-scientist who specializes in pancreatic cancer and drug development.  He serves as the chief of the Division of Hematology and Medical Oncology in the Weill Department of Medicine at Weill Cornell Medicine and NewYork-Presbyterian/Weill Cornell Medical Center.
The Division of Hematology and Medical Oncology provides exemplary, comprehensive cancer care, diagnosing and treating patients with cancer and non-malignant blood disorders, and engaging in cutting-edge research.  In his role, Dr. Hidalgo is expanding and enhancing Weill Cornell Medicine's and NewYork-Presbyterian's cancer programs by recruiting outstanding new oncologists and hematologists.  Working closely with the Meyer Cancer Center and other multidisciplinary institutes and academic departments, Dr. Hidalgo is enhancing research and clinical collaborations across the academic medical center.  He is also broadening access to cancer care and clinical trials for underserved populations by leveraging Weill Cornell Medicine's and NewYork-Presbyterian's clinical expansions.
Before accepting the job at the Weill Cornell Medicine and NewYork-Presbyterian/Weill Cornell Medical Center, Dr. Hidalgo was at the prestigious Beth Israel Deaconess Medical Center (BIDMC) where he oversaw all BIDMC's clinical cancer programs.  Dr. Hidalgo's groundbreaking work in experimental cancer therapy and tumor model development led to key advances in the treatment of pancreatic cancer.
A respected oncologist and premier investigator, Dr. Hidalgo's work has centered on translational and clinical research in anticancer drug development with a particular emphasis in gastrointestinal cancers.  He has developed, tested and helmed the early clinical development of more than 50 new anticancer agents for pancreatic and other solid tumor cancers.  Three of those agents, including nab-paclitaxel, are now approved by the U.S. Food and Drug Administration for treatment of GI cancers, including pancreatic cancer.  His team also pioneered the development of a personalized cancer model using mice, called mouse avatars, to pre-test cancer treatments.
Dr. Hidalgo formerly served as the Director of the Clinical Research Program and Vice Director of Translational Research at the Spanish National Cancer Center.  From 2011 to 2009, Dr. Hidalgo was Co-Director of both the program for Drug Development and Gastrointestinal Oncology at John Hopkins university in Baltimore, Maryland.
Dr. Hidalgo received his M.D. degree from the University of Navarra in Pamplona and his Ph.D. degree from the University of Autonoma in Madrid, Spain. Dr. Hidalgo completed his training in drug development at the University of Texas Health Science Center in San Antonio, Texas, where he worked closely with Dr. Daniel D. Von Hoff as an Assistant Professor of Medicine.
Dr. Hidalgo currently holds faculty positions at University CEU San Pablo and Johns Hopkins University.
Dr. Hidalgo has been an invited participate or speaker at almost 200 meetings or symposia and co-authored more than 175 scientific articles, 47 review articles, 9 editorials, commentaries and letters to the editors of scientific publications and 8 book chapters.  He is currently a reviewer or editor for several major scientific publications and has been or is a member of several international cancer-related organizations.  Dr. Hidalgo has received funding from major scientific organizations that include the National Institute of Health, the National Cancer Institute, the American Society of Clinical Oncology (ASCO) and the American Association for Cancer Research (AARC). Dr. Hidalgo was the recipient of a Clinical Research Fellowship from the AACR and a Career Development Award from ASCO for his work on epidermal growth inhibitors such as Tarceva®.
Dr Hidalgo's primary focus now is on the development of novel therapies for pancreatic cancer.  In that regard, Dr. Hidalgo serves as consultant to PharmaCyte.